JUST A FEW YEARS AGO, UDAYSINH CHAWDA was struggling to make ends meet. A farmer in Dhundi village in the western Indian state of Gujarat, Chawda had to deal with a challenging environment that included the country's increasingly unpredictable monsoons and maintaining a reliable supply of water for irrigation. But in 2016, the village was the site for the world's first solar irrigation cooperative, the Dhundi Saur Urja Utpadak Sahakari Mandali. 
Farmers like Chawda now use solar-powered pumps—instead of expensive diesel—to pump groundwater, and more important, work them strategically so they can sell the excess generated energy to the grid for additional income. The Dhundi initiative was launched by the International Water Management Institute (IWMI) based in Colombo, Sri Lanka, and is but one drop in the bucket of solutions as South Asia battles climate change. 
Asia faces a daunting challenge of food security. According to a report from The Asian Development Bank, two-thirds of the world's one billion hungry reside in Asia and the Pacific. The world's population, now 7 billion, is projected to increase by more than 2 billion by 2050, with Asia accounting for a majority of the increase. 
The problem is especially compounded in South Asia, which is on the front line of climate change. The past few years have seen increasingly devastating floods, erratic monsoons, and deadly heat waves, which are predicted to get worse, potentially damaging river basins and threatening the food supply in an already overburdened system. 
Such dire forecasts require smarter approaches to farming, and projects like Dhundi's are essential tools in the arsenal to feed citizens facing dwindling fresh water and other critical resources. IWMI is not alone in the solar-powered irrigation push. Khethworks, a start-up born out of the Tata Center at the Massachusetts Institute of Technology, works on similar systems for small farmers in India. 
The solar-powered irrigation efforts are just one aspect of a three-pronged strategy to find solutions in a world being reshaped by climate change, said Dr. Claudia Sadoff, director general at IWMI. "We have to focus on prediction and preparedness," she explained. Monetary compensation is an additional component. In essence, farmers in South Asia have to be able to more precisely predict monsoon or floods, farm more efficiently with increasingly scarce resources, and, knowing that damage from climate change is inevitable, find out ways they can get compensation for lost income. 
And the one thing they are increasingly relying on to meet these challenges head-on is technology. 
In 2013, the irrigation department of Sri Lanka came to Dr. David Wiberg, the head of hydroinformatics at IWMI, with a problem: The country was being ravaged by floods, and the old models of managing reservoirs were outdated. "They said, 'We get information once a day from the meteorological department, and it's simply not enough. We need to have information in real time about precipitation that is coming, so we know when to expect inflows and we can release water from the reservoir to prevent crop disaster from a flood.'" 
The response to the problem under trial in Sri Lanka is an open-source weather station, which, because it is not built on proprietary software, costs a tenth of traditional versions. The weather station is linked to a precipitation gauge to give real-time alerts. "It sends signals from the sensor to wherever you want it to go," Wiberg said. In this case, farmers and water managers get texts on their mobile phones if more than a predetermined amount of rain falls. 
A new water accounting framework based on satellite measurements also produces information on depletion of water resources, storage change, and land and water productivity, especially in the Indus river basin in India. While rates of evaporation and transpiration are available from satellite imagery to a certain extent, they need to be used in concert with ground data, Wiberg said. In that sense, the open-source weather station is a proactive solution to better predict erratic rains and floods and therefore to handle climate change more efficiently. 
Those efficiencies are also coming in the way farmers are using technology to get the most "crop per drop." Climate-smart initiatives such as solar-powered irrigation are being spearheaded not just in Dhundi, Gujarat, but all over South Asia.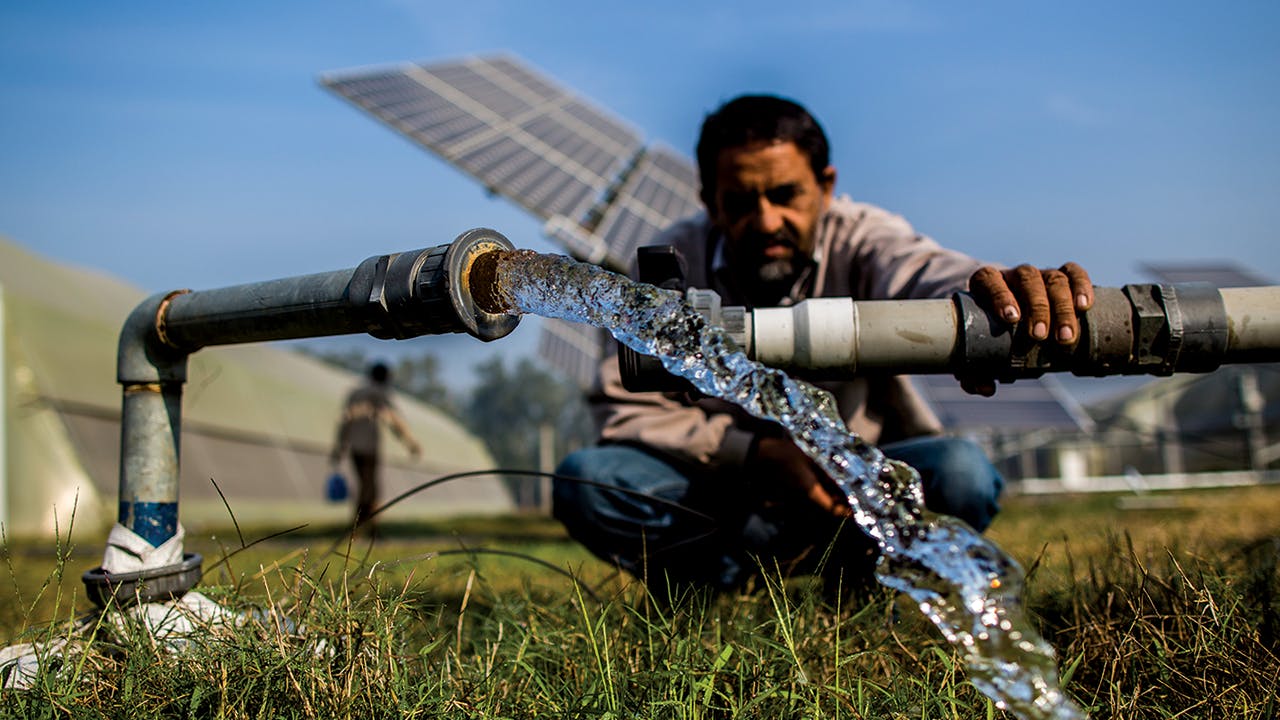 Manita Raut, based in IWMI's Kathmandu office, works with farmers in eastern Nepal and the Indian state of West Bengal to use the solar-powered technology to improve irrigation in the non-monsoon seasons. In these regions, according to Raut, farmers are now able to cultivate wheat, pulses, and vegetables in the "dry" season in addition to rice crops in the monsoons. 
Traditionally, farmers have pumped groundwater by using either expensive diesel, or using local grid electricity, which is also unreliable. Solar cells provide cheaper and more predictable power to drive the pumps. 
The project has not been without speed bumps. When first presented with the solar-powered pumps, farmers blindly started pumping precious groundwater without paying attention to long-term conservation strategies, Wiberg said. IWMI had to go back to the drawing board and institute a program called SPaRC, Solar Power as Remunerative Crop, through which farmers use just enough energy to pump the water they need and can sell off the rest of the solar power to the electric grid. Such an approach has multiple advantages: It gives farmers agency as to when to pump water and how much of it to take, it gives them an additional income stream, it conserves precious groundwater, and by weaning farmers off of diesel, decreases carbon-based emissions. 
The final aspect of living with climate change is gathering evidence-based data that can be used to compensate farmers for lost income. An Index-Based Flood Insurance Product (IBFI) uses hydrological and hydraulic modeling with satellite imagery to establish what's normal in terms of rain and runoff. 
If a trigger point is reached, new satellite imagery can accurately identify the extent and depth of flooding, Wiberg said. Drones are also being deployed to map affected areas. "It will go and map the flood during and after flooding events so that we can send rescue operations, recovery operations, to where they're needed most," he added. 
Satellite imagery is also being used to predict droughts by measuring soil moisture in the top few inches of the soil, and farmers are expected to be compensated if the levels drop below a preset amount. Reliable data has led to faster payouts from insurance companies; and now, said Sadoff, farmers are more likely to buy the crop insurance they need. Reliable evidence-based data from satellite imagery and sensors have helped governments fine-tune disaster preparation and also prevent fraud from farmers overstating the extent of the damage. 
Virginia Newton-Lewis, senior policy analyst or water security at WaterAid, an international nonprofit, believes the main challenges related to food security in South Asia revolve around the productivity of rain-fed systems. She pointed out that while water access is the biggest part of the food security equation, it is not the only one. 
"Biotechnology and the use of drought-resistant seeds and appropriate use of fertilizers are also important," she said. 
Dr. Prabhu Pingali, director of the Tata-Cornell Institute for Agriculture and Nutrition at Cornell University, agrees. According to a 2017 report from the Food and Agriculture Organization, hunger and malnutrition appear to be rising in some areas of Asia and the Pacific, leaving roughly half a billion people undernourished. "In the past people talked about food security in relation to calorie sufficiency. When we talk about food security now, we're talking about securing a balanced diet," Pingali said. "You may be able to beat hunger, but you're not beating malnutrition." And that's the next big challenge. 
Among the many projects in South Asia that the institute supervises are the introduction of the orange-fleshed sweet potato, which is bio-fortified and high in beta-carotene and vitamin A. "You enhance the vitamin A content in the sweet potato through conventional breeding technologies," Pingali pointed out, adding that the crop has been gaining traction in east Africa, and he hopes it will catch on in South Asia too. 
Raut adds that dry season irrigation also holds the promise of growing a diverse variety of crops other than just rice and wheat to combat malnutrition. 
These technologies have succeeded despite difficult field trials (malfunctioning equipment is common) and policy speed bumps. "The challenge is probably more institutional than it is with the electronics and the machines themselves," Wiberg said, "One of the downsides is that there is a learning curve. People have to understand how the sensors are working, how to maintain them. But the other is institutional, in that the institutions have to share information and data, which historically they don't." Yet another challenge, Wiberg said, is the overload of information; you need trained personnel who understand that the "garbage in, garbage out" theory holds true in these technologies as well. It's a constant game of cat-and-mouse with government and the adoption of technology, but one that seems to be working toward more efficient solutions. 
It is equally important to recognize that South Asia is not a monolith, and that solutions will have to be tailored to on-the-ground realities of differing hydrologies and other concerns, cautioned Dr. Farhana Sultana, research director for environmental conflicts and collaborations in the Program for the Advancement of Research on Conflicts and Collaboration at Syracuse University, who has worked extensively on the water crisis, in Bangladesh and elsewhere. "Configuring solutions to water or food insecurity anywhere requires contextual understanding, appreciation of local knowledge and lived experiences, and recognizing that there is no universal solution to any problem," she said.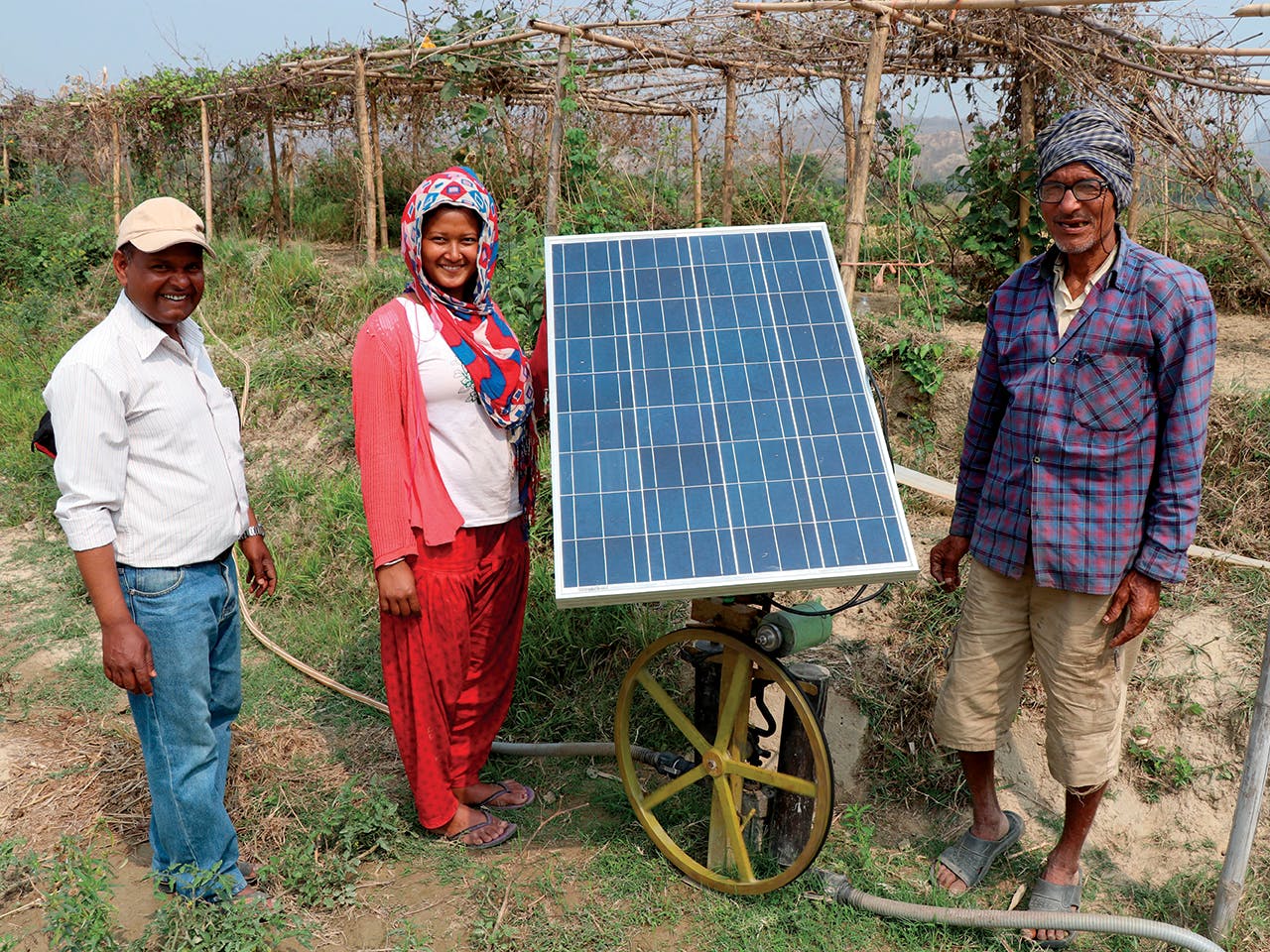 Sadoff agrees. "The challenges of food insecurity with respect to small rural farmers are entirely different from those faced by urban farmers in megacities," she said. "The question becomes, 'How are you going to feed all these people and manage the waste?'" In some areas of South Asia, there is the added challenge of salt water pushing upriver and compounding the problem. 
But the technological solutions pressed into action in different regions deliver contextual understanding and agency to the farmers (especially women) who are using them, and they are constantly being fine-tuned due to changing situations on the ground. 
Pingali points out that their project initially planned on distributing micronutrient sachets to village women so they could bring the sachets to the local mill to add to the flour being ground for the family. But women's cooperatives have since taken over selling these micronutrient sachets for a very small fee, thus making some money on the side and creating a self-sustaining model for the cooperative. 
Raut said that the solar-powered pumps have freed women, who often have to bear the brunt of irrigation tasks, from operating the pumps at unsafe hours, whenever electricity was available. These incremental societal shifts have added to the momentum, and government has seen the potential of these technologies. Pingali reports success working with state and central governments in India to reevaluate policy. "One of the things we have been pushing for is it to look more broadly at agriculture policy in India that has been so focused on rice and wheat and move it away from just looking at calories." 
And the solar-powered irrigation's early successes are looking to enjoy increased momentum in the coming years. In its 2018 budget, the Indian government announced plans to build 10,000-megawatt solar plants on barren lands, providing 1.75 million off-grid agricultural solar pumps.
Sadoff quotes the popular prayer: Lord, grant me the serenity to accept the things I cannot change, courage to change the things I can, and wisdom to know the difference. "We have to know what we can change and what we need to now live with," she said. That new normal may just be local innovation facing down the global problem of climate change.