Seventy-one million, four hundred forty thousand is a big number. That was the number of people fleeing war, conflict, drought, and famine at the end of 2017 and of concern to the United Nations High Commissioner on Refugees (UNHCR). The number of displaced people is now at its highest since the end of World War II, according to the agency. The data shows that 85 percent of such migrants have headed to developing countries that are the least able to care for them, despite exaggerated fears of forced migrants pouring into countries like Britain, Hungary, and the United States. Many flee to countries near them because they share similar languages and traditions and do not have the means to get further. For some, though, these may be staging posts to other, more far-flung destinations.
The UNHCR provides data for various groups, including refugees who have left their home country, internally displaced persons (IDPs), asylum seekers, returnees, and stateless people, with some additional individuals and groups not fitting these criteria. The numbers for the total population of concern (TPC) in each country encompasses all those categories and illustrates the true scale of the humanitarian problem for each place.
Taken together, these figures also show where the world's most critical refugee crises are, and they reveal that internecine conflicts such as civil war and terrorism, often accompanied by harvest failure and drought, are increasing the pressures on—and sizes of—these trouble spots.
The Middle East is especially worrying, given the continuing disruption from the Syrian war. This is a sprawling, confusing conflict whose participants include Russia, on the side of Syria's president, Bashar al-Assad, and the so-called Islamic State and Al-Qaeda, who oppose him. The United States, which is against both Assad and ISIS, has also been involved, though U.S. President Donald Trump has said he wants to end troop involvement. Such a move could cause even more displacement in the region if ethnic Kurds are left with no protection from Turkey, which links them to insurgent groups within its borders.
Yemen is also consolidating its position as a troublesome hot spot. The country is split by a civil war between Houthi-led rebels and the internationally recognized Yemeni government, led by Abdrabbuh Mansur Hadi, in a conflict entering its fourth year.
Most European nations are not the top destinations for refugees. Turkey, which straddles Europe and the Middle East, has a TPC of more than 3.7 million, largely due to the ongoing Syrian situation and its perception as a haven for Muslims of all backgrounds displaced across the Middle East. European centers of concern include France, with a TPC of around 401,000, and Germany, with more than 1.4 million persons of concern in its borders. Nationalist anti-government movements have increased pressure on France's President Emmanuel Macron, while German Chancellor Angela Merkel will not seek reelection in 2021, partly over criticisms of her acceptance of large numbers of migrants in 2016.
Still, the number of people illegally crossing into Europe dropped last year to its lowest level in five years, EU border and coast-guard agency Frontex said in January. About 150,000 people entered the European Union through irregular crossings in 2018, the lowest total since 2013 and 92 percent below the peak recorded during the migration crisis.
It is perhaps ironic that countries that frequently express the most concern about uncontrolled migration have relatively small populations of concern to UNHCR. The United Kingdom and the U.S., for example, have TPC populations of around 162,000 and 930,000 respectively, while Hungary has 6,508.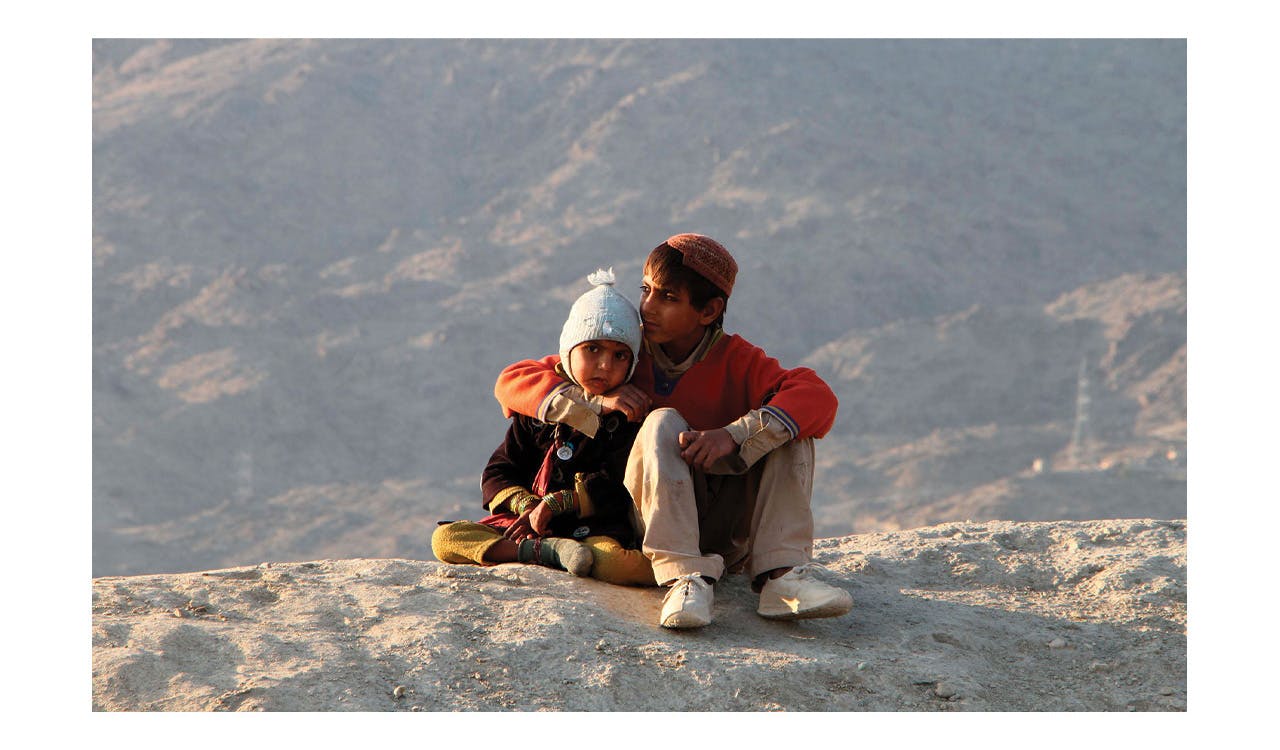 Meanwhile, the struggle between Palestine and Israel over occupied territories has become an argument over how refugees are counted. The United Nations Relief and Works Agency for Palestine Refugees in the Near East, or UNRWA, calculates the number of refugees created by this dispute since it began in 1948 and all their descendants, and who have a right to return to Israel today, at 5.4 million. But Israel's prime minister, Benjamin Netanyahu, has called for the care of refugees to be transferred to UNHCR, which calculates refugees at a lower total, under the terms of a 1951 UN treaty. This statistical sleight of hand could see the numbers of displaced people with a right to return fall by millions.
In a world where battles and political struggles are fought as much by sound bites and social media as by guns, keeping an eye on the numbers—and the real people behind them—will be increasingly important. Here we have collected and explained data for a range of refugee hot spots around the world, positioning their statistics in context and in an infographic map. The key figures are number of refugees, the total population of concern or TPC, and the total population (including other groups) of the area in question.
A note on UNHCR methodology
UNHCR offices, national governments, and NGOs supply the data, with 60 percent of this population being individually registered by UNHCR. "The quality of the data often depends on the destination and movement of refugees, the size and rapidity of the displacement, and the timing of the integration of refugees in the host community," UNHCR said in a blog post.
Ensuring comparable figures in every host country covered by UNHCR is challenging, as definitions and data collection methods differ. Confusingly, people may enter the refugee population by birth or changes in legal status, or they may apply for asylum in more than one country, adding to the complexities of estimating numbers. UNHCR seeks to improve data collection by registering displaced persons directly and using a biometric identity system to reduce the chance of multiple registrations.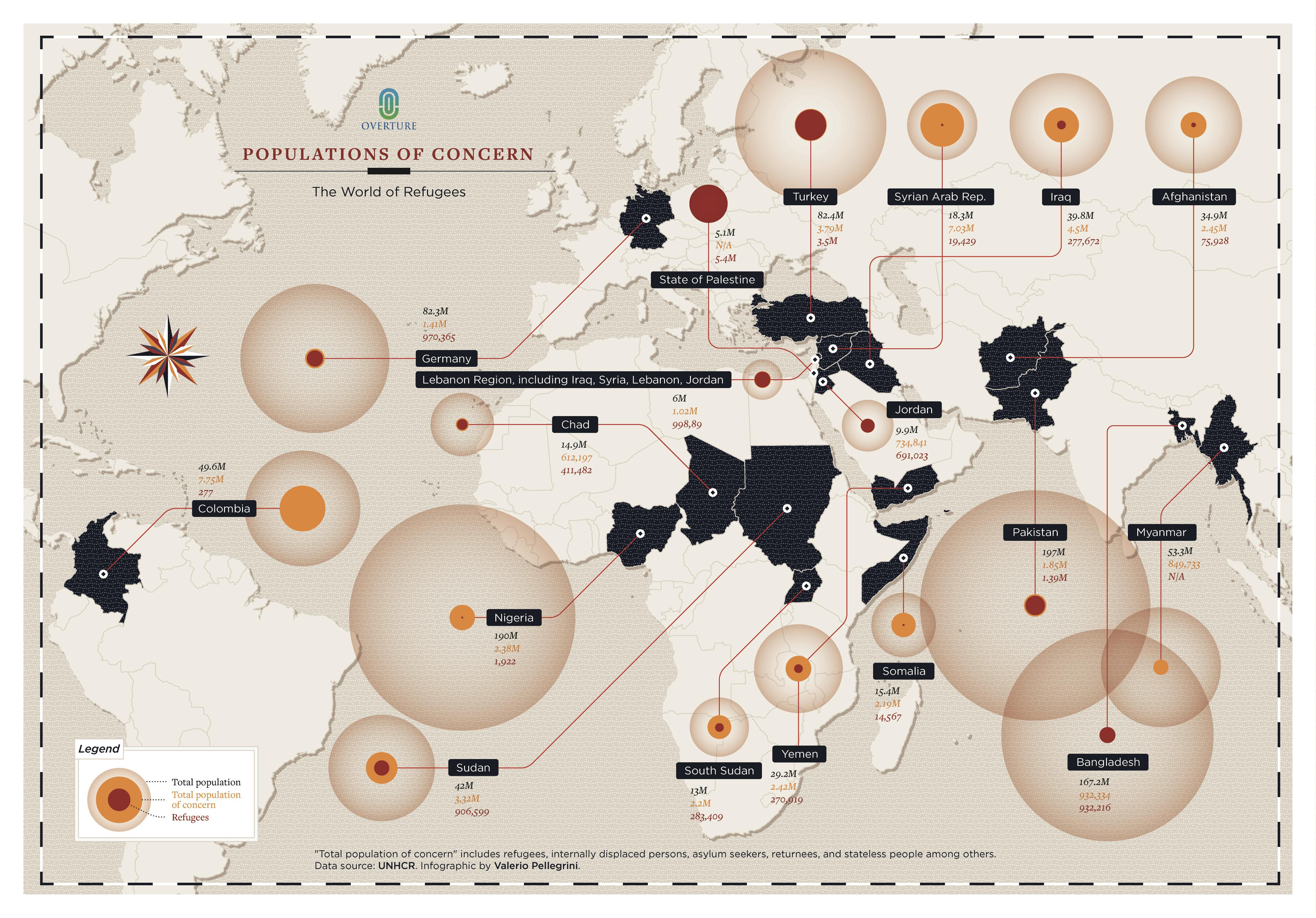 People, Not Just Numbers
Understanding those affected by (or at risk from) refugee crises means looking at a range of data. The map above helps visualize selected refugee crisis areas. The number of refugees is very important, but so is the "total population of concern" (TPC)—a number that includes those recognized as refugees, but also internally displaced persons, asylum seekers, returnees, and stateless people among others at risk of becoming refugees, or refugees in effect if not formally classified as such. Considering the relative numbers of refugees, TPC, and total non-refugee population can illuminate the impact of a crisis on a particular country or region.
For example, the United States has a total population of 325.7 million, a TPC of 929,850, and a refugee population of 287,129; the United Kingdom's population is 66 million, with a TPC of 162,299 and refugee population of 121,837. In raw numbers, the U.S. has more refugees, and although its population is roughly 5 times that of the UK, it has about 5.7 times the number of people at risk. On the other hand, the number of refugees in the U.S. is only 2.4 times that of the UK. The U.S.'s much larger total population means it could (in theory) support many more refugees.
Our infographic shows the wide range of population relationships in the world outside the U.S. and the UK. Colombia has a large TPC but accepts (or recognizes) few refugees. Refugees already make up most of the TPC in both Turkey and Pakistan. Refugees are a political hot button in Germany, where the proportions may seem high by Western standards. And countries embroiled in active conflict have high TPC but lower refugee populations, often because their refugees have fled to neighboring states.
Here we break down some of the world's most urgent refugee crisis regions, providing context for what created the crisis and what the most pressing challenges may be going forward.
Central African Republic
Refugees 10,036 TPC 866,948 
Total pop 4.77m
Hostilities between rival Muslim and Christian groups, previously brought to a successful end in 2007, reawakened in 2012 when the Muslim militia accused the government of not adhering to previous peace agreements. Despite four elections since 2013 and attempts to restore peace, the country remains split between rival armed factions. Challenges for aid workers include malaria and other diseases, the lack of infrastructure and money, and fears for their own safety. Half the population needs humanitarian aid to survive.
Democratic Republic of Congo
Refugees 537,087 TPC 5.14M 
Total pop 85.4m
The DRC has one of the most complex and challenging humanitarian situations worldwide, with multiple conflicts affecting several parts of its vast territory. Hopes for peace soared after a long civil war ended in 2003, but the nation has instead seen sporadic waves of fighting, especially in the eastern parts of the country. Since 2016, a new wave of violence struck the DRC's previously peaceful Kasai region, a vast area in the south and the center. The country also hosts over half a million refugees from neighboring states, including Burundi, the Central African Republic, and South Sudan.
South Sudan
Refugees 283,409 TPC 2.2M Total pop 13m
The world's newest country, formed in 2011 after breaking away from Sudan, has been riven by civil war since 2013, when President Salva Kiir Mayardit accused a former deputy of an attempted coup. The oil-rich country is poverty-stricken after years of ethnic conflict, while opposing forces fight to control precious resources, with little basic infrastructure such as roads. Despite the violent conflict, the UN reported that hopes for a fragile peace were brighter after a peace deal signed in September. Even if this deal succeeds, rebuilding the country will be a lengthy process.
Sudan
Refugees 906,599 TPC 3.32M Total pop 42m
Sudan's refugee crisis is linked to decades of civil unrest after President Omar al-Bashir led a coup against the government in 1989. The following conflicts, including a long-running dispute between Arab and non-Arab citizens in Darfur, left many people internally displaced. The separation from South Sudan saw the new state take most of the oil, and Sudan has recently seen big price increases and shortages of essentials like bread and fuel. 
Chad
Refugees  411,482 TPC 612,197 
Total pop 14.9m
Bordered by conflict-ridden countries, Chad is a destination for refugees from all of them, as well as IDPs from its own internal conflicts. Many of them shelter around Lake Chad, which provides water for up to 30 million, but this is shrinking due to climate change and unplanned irrigation.
Nigeria
Refugees 1,922 TPC 2.38M Total pop 190m
Violent attacks by the Islamist sect Boko Haram have piled over the borders of northeastern Nigeria into neighboring Cameroon, Chad, and Niger, creating a devastating regional conflict. Some 2.4 million people have been uprooted, including over 1.9 million IDPs in northeastern Nigeria, and over 471,000 IDPs in Cameroon, Chad, and Niger. The crisis has been exacerbated by conflict-induced food insecurity and severe malnutrition in all four countries, and 4.5 million people in the four countries remain food-insecure.
State of Palestine
Refugees 5.4m TPC N/A Total pop 5.1m
Palestinians' dispute with Israel over the occupation of the Gaza Strip and West Bank more than 50 years ago has evolved into attempts to undermine UNRWA—the chief source of aid for refugees—in Lebanon, Jordan, and Syria, as well as the West Bank and Gaza. Israel has called for these services to be moved to UNHCR, which would lead to a lower estimate of refugee numbers, while U.S. President Donald Trump has withdrawn his country's contribution to the UNRWA budget. This state of affairs explains why there's no separate UNCHR calculation for "total population of concern" for Palestine.
Somalia
Refugees 14,567 TPC 2.19M Total pop 15.4m
The impact of nearly two-and-a-half decades of armed conflict, compounded by drought and other natural hazards, challenges the resilience and coping mechanisms of Somalia's most vulnerable citizens. Over 870,000 Somalis are registered as refugees in the Horn of Africa and Yemen, while an estimated 2.2 million are displaced within the country itself. After years of tribal divisions, a Federal Government of Somalia, recognized internationally, was established in 2012, and a peaceful election held in 2017. But an ongoing conflict with Islamist armed group Al-Shabab, allied to Al-Qaeda, and famine and drought continue to plague the country.
Yemen
Refugees 270,919 TPC 2.42M Total pop 29.2m
Yemen is the final regional destination for many fleeing conflicts elsewhere, including Somalia and Ethiopia, who are seeking sanctuary and jobs in the Gulf. The country's problems in caring for more than 2 million IDPs has been exacerbated by a famine ongoing since 2016. The number of migrants here is likely to rise above 150,000—more than the 107,000 arriving in Europe from the Mediterranean in 2017. UNHCR says 22.2 million Yemenis now need humanitarian assistance, while 2 million are in desperate conditions.
Myanmar
Refugees N/A TPC 849,733 Total pop 53.3m
Myanmar is the source of the third-largest group of new refugees due to violence in Rakhine state. An estimated 655,500 Rohingya were forced to cross the border into Bangladesh, where they were granted protection, increasing the number of Rohingya refugees in Bangladesh to more than 930,000. They are stateless due to Myanmar law, which confers citizenship based on ethnicity. With no country of their own to flee from, they technically may not even be classified as refugees.
Iraq
Refugees 277,672 TPC 4.5M Total pop 39.8m
Although Iraq's government declared victory over the Islamic State in December 2017, the group reportedly still controls areas near the border with Syria. The ongoing conflict has resulted in more than 3 million people fleeing for their lives, UNHCR says. An estimated 11 million are currently in need of humanitarian assistance. More than 2.6 million have been forced from their homes but remain inside the country, while 220,000 are in other countries. There are also up to 300,000 refugees in Iraq from neighboring countries, mostly Syrians.
Afghanistan
Refugees 75,928 TPC 2.45M Total pop 34.9m
Afghanistan has the largest protracted refugee population in Asia. U.S.-led efforts to undermine the Taliban following the 9/11 attacks have led to an enduring conflict. The Western-backed official government is supported by 16,000 foreign troops, half from the U.S., while around 43 percent of the country is still in Taliban hands. Rivalries between Islamic State and Taliban factions over poppy-growing areas and routes that supply 90 percent of the world's heroin further fuel divisions.
Syrian Arab Republic
Refugees 19,429 TPC 7.03M Total pop 18.3m
Syria remains the main country of origin of refugees. More than 6.3 million have been forced to flee, accounting for almost one-third of the world's total refugee population. There was a 14 percent increase in their number in 2017, and they have found asylum in 125 countries. Turkey has the most, at 3,424,200 people.
Lebanon Region, including Iraq, Syria, Lebanon, Jordan
Refugees 998,890 TPC 1.02M Total pop 6m
Lebanon hosts the highest rate of refugees given its population. When Palestine refugees under UNRWA's mandate are included, the figures rise to one in four for Lebanon and one in three for Jordan. According to the UN, over three-quarters live below the poverty line of $2.97 per person a day, while 58 percent of households are living in extreme poverty and are unable to meet their survival needs. Food insecurity remained critically high, with 91 percent of refugee households affected.
Turkey
Refugees 3.5M TPC 3.79M Total pop 82.4m
For the fourth consecutive year, Turkey hosted the largest number of refugees, a 21 percent increase over the year before. Other European countries hosted 2.6 million refugees total. Turkey also continued to host a rising number of asylum-seekers, with 308,900 pending claims at the end of 2017, an increase of 26 percent over 2016, excluding Syrians covered by its Temporary Protection Regulation. While Turkey has so far welcomed arrivals, a cooling economy may encourage new restrictions.
Colombia
Refugees 277 TPC 7.75M Total pop 49.6m
The 50-year conflict between the Colombian government and armed Marxist guerrillas officially ended in 2016, but it left millions displaced. These IDPs often live in deplorable conditions and are plagued by narcotics gangs, who also make money from kidnapping, extortion, and human trafficking. Areas previously controlled by the guerrillas of the Revolutionary Armed Forces of Colombia, known as FARC, have become flash points for gangs eager to control lucrative illegal mining and coca farming. 
Pakistan
Refugees 1.39M TPC 1.85M Total pop 197m
The country hosts about 1.4 million registered refugees and perhaps another million unregistered ones. Many fled from Afghanistan, starting with the conflict with Russia in the 1980s and continuing under Taliban rule, and have lived here for over 30 years. Their numbers are rising, as neither they nor their offspring have rights to citizenship. Since 2002, 4,374,208 Afghan refugees have repatriated with UNHCR's assistance. Imran Khan, who became prime minister last year, offered to make registered refugees citizens, but may have backtracked on this pledge, adding to the uncertainty. 
Germany
Refugees 970,365  TPC 1.41M Total pop 82.3m
Germany's refugee population increased by 45 percent, to 970,400 in 2017. Most refugees here came from Syria (496,700), Iraq (130,600), Afghanistan (104,400), Eritrea (49,300), and Iran (38,300). Chancellor Angela Merkel's decision to accept 1 million migrants following the 2015–16 refugee crisis has been opposed by the populist party AFD and was blamed for her CDU party's election losses in 2018. As a result, Merkel will not seek reelection in 2021. Ingo Kramerm, the head of the German Employers' Federation (BDA), a prominent business lobby, said this policy has proved to be right, as more than 400,000 migrants found apprenticeships or jobs.
Jordan
Refugees 691,023 TPC 734,841 Total pop 9.9M
Jordan, which has the world's 10th-largest refugee population, experienced an increase of about 1 percent in 2017, according to UNHCR, mainly due to births. Most refugees are from Syria (653,000) and have little money for essentials. The government has taken steps to open formal employment opportunities for Syrians. According to the Jordan Times, more than 100,000 refugees have been issued work permits.
Bangladesh
Refugees 932,216 TPC 932,334 Total pop 167.2m
In 2017 the number of refugees increased more than threefold, from 276,200 at the start to over 932,000 at year-end: most were fleeing conflicts in Democratic Republic of the Congo and Myanmar. That year, 655,500 arrived from Myanmar, mainly from the end of August. The enormous influx has put immense pressure on the host community. The large proportion of infants, children, and pregnant women adds additional complexities.