Back in 2012, Sydney Gray was at work on a fellowship focused on a community water project in Kenya. With a background in infectious diseases and women's studies, Gray had already been drawn into fundraising and development work when the fellowship opportunity presented itself. While in Kenya, she was struck by how the project afforded the chance to really engage with local women. 
"In the developing world," explains Gray, "water is the women's sphere. They collect water, clean it, use it for everything. And they're also in charge of the health sphere, caring for the sick and taking care of other issues around health." Talking and working with the Kenyan women in a field where they were the authority, where they felt comfortable and had the knowledge, created an entry point to deeply engage with them about other topics as well. 
At first, Gray observed, the women would rarely speak about these other topics. Even if a room was made up of 20 women to 10 men, the men would dominate the conversation, and the women would mostly remain silent. But once water was discussed, the women were much more confident and forthright about engaging with and directing the room. And that energy could be focused on other areas where the women could be just as capable, even if they hadn't yet had as much experience. 
When the fellowship project ended, Gray decided she wanted to keep working with these women, and others like them. She and her husband founded Mama Maji, a nonprofit dedicated to helping women innovate with water. Gray decided to try a new approach to getting started. Mama Maji was among the early "innovators" launched on the Global Innovation Exchange (GIE), a tech platform that helps global development fund-raise more effectively. The platform is supported by the United States Agency for International Development, Australian Department of Foreign Affairs and Trade, Korean International Cooperation Agency, and the Bill & Melinda Gates Foundation, and it's managed by the nonprofit Results for Development. 
The GIE acts as a resource for projects like Mama Maji, directly connecting fund-raisers with potential funders. The platform has been used by over 7,000 innovators for hundreds of funding opportunities, and has collectively raised more than $350 million. Mama Maji has raised $100,000 of its $300,000 goal so far, much of it through GIE. Gray was very happy with the results, noting, "I found more opportunities in two days on the site than I had in the previous six months of research." 
Mama Maji is already hard at work with women in communities struggling with profound water needs, and they don't merely drop a new water tank and leave. Instead, women are trained not only on how to solve their immediate water problems, but also how create an entire new business providing water solutions for their whole community.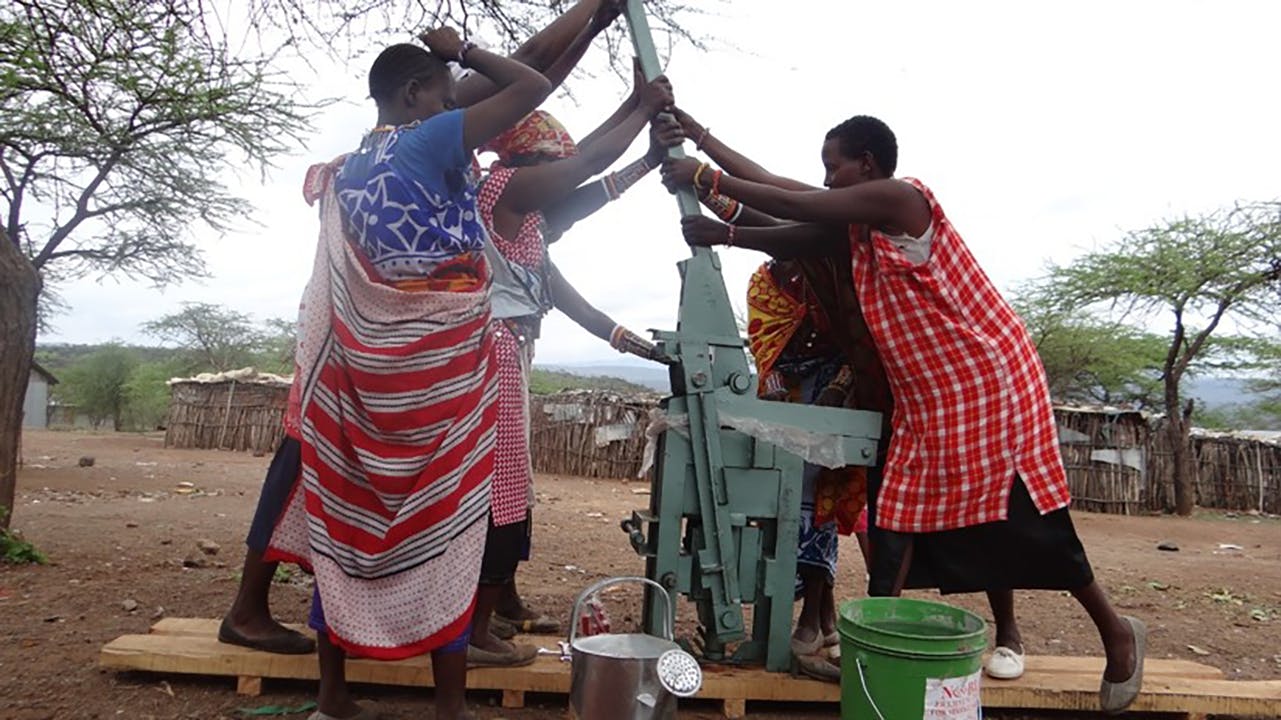 Participating women run their own Mama Maji franchise, learning how to build and manage water tanks in a variety of sizes, using locally produced interlocking stabilized soil blocks (ISSBs). The blocks, made from compressed soil, allow the water tanks to be built and sold at half the price of competitors'. The women may find themselves assuming leadership roles by way of their new expertise in business and construction, building on their traditional competence in water to create a whole new range of opportunities.
Franchisees, the titular "Maji Mamas," receive training support from Mama Maji, but they also get market support via microloans and help securing their first contracts, plus more training and assistance as their franchises grow. How's it going so far? "We have trained 270 women," says Gray, "who have worked on water projects serving about 7,500 people and ultimately impacting about 25,000 people." Gray intends to expand to other areas and communities as Mama Maji's reach increases. Spinning up a grassroots collection of local businesses, founded on local engagement and empowerment of women, seems like real innovation at scale.