A TECH START-UP IN SILICON VALLEY producing food to combat starvation and malnutrition in Liberia may seem like a stretch. But that's part of Just's day-to-day operation since February. 
Formerly called Hampton Creek, the start-up is on a mission to make plant-based food products using cutting-edge science. For the Liberian project, that means a vitamin-fortified cassava porridge called "Power Gari"—a remixed version of an already-popular Liberian staple, with nutrients tailored to the needs of the region. The goal is to increase Africans' intake of much-needed vitamins and minerals by way of 12 grams of protein and high doses of iron, zinc, and the vitamins A, D, C, B-6, and B-12. 
But as the industry that birthed the iPhone knows, it's not just about what a product contains. Power Gari is sold in Silicon Valley's typical minimalist-yet-cool packaging that makes it fly off shelves—something missing from the similar products offered by NGOs and other development organizations already on the ground. 
According to the U.S. Agency for International Development, roughly one-third of children in Liberia under age 5 suffer from stunted growth, and nearly two-thirds have anemia. With the local diet heavy on rice, dried meat, fish, and cooking oils, vitamin-fortified foods are sometimes the only way to combat nutrient deficiencies. 
"I want to make Liberia a big success—success defined by solving the micronutrition problem there and making sure kids have dignity in what they eat," Just founder Josh Tetrick said when the project was first revealed. "But we certainly didn't start this only for Liberia. This needs to be a model that we get right and we take everywhere."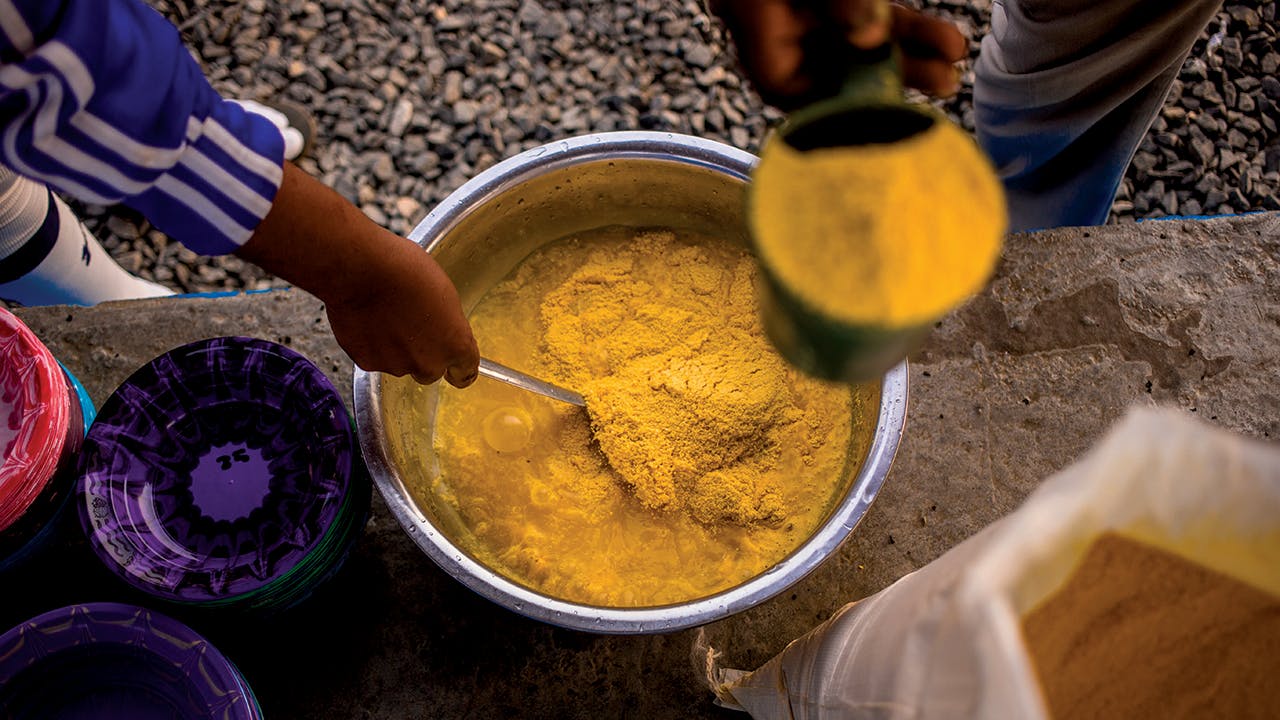 "Demand for Power Gari has exceeded our expectations," said Taylor Quinn, Just's director of emerging markets. "We're rapidly expanding the product's footprint across Liberia with new partners, including open-air market vendors, K-12 schools, and the medical sector." 
The company has rolled out two new flavors of Power Gari since February: Benni Power Gari (sesame seed) and Coconut Power Gari. And on April 7, Just partnered with community-run organizations in West Point (Liberia's poorest neighborhood) to serve 3,000 meals at a launch event headlined by Liberia's hottest hip-hop artists and most popular comedians. 
By the end of 2018, Tetrick predicts, the company will have sold seven million servings of Power Gari in Liberia. In two years, the product is scheduled for sale in 15 African countries, with Ghana, Nigeria, and Ethiopia next on the horizon. 
"Folks who live on under $2 a day shouldn't be looked at as victims or people who deserve our worst food," said Tetrick. Instead, he prefers to view them as potentially empowered consumers. 
This outlook is something the 37-year-old entrepreneur developed under Liberia's then-President Ellen Johnson-Sirleaf during a stint of relief work that also took him through Kenya, Nigeria, and South Africa. What he saw during this time convinced him that a for-profit social impact enterprise could change millions of lives, and do it faster and more effectively than dedicated development organizations could.
The model Just is following in Liberia isn't only improving the population's health—it's plugging into the local community and economy for a full farm-to-table involvement. Many of Power Gari's ingredients are from Liberia itself (for instance, the cassava is made by an all-female group of local farmers), and the product is made in partnership with a local producer who pays a recurring licensing fee to use Just's proprietary recipe. In addition to fostering traditional retail relationships, Just has placed Power Gari in two major street markets and schools looking to improve its students' diet. 
"The tools of our food system are limited. We're talking soy, corn, processed sugar, and animal protein. These are the core ingredients that the biggest food companies are using to make the food that is all around us," reads Just's mission statement. "The world does not believe it's possible to have healthier, sustainable food that is also affordable and delicious. That keeps anyone from even trying." 
Just is trying, and has been since 2011, when it first incarnated as Hampton Creek. 
What exactly does Just do? It produces healthy but affordable food, usually made entirely from plant-based ingredients. Early products included vegan versions of mayonnaise and cookie dough, which used ingredients like Canadian yellow pea and sorghum to replace eggs. More recently, they've made Just Scramble, an egg substitute made primarily from mung beans. 
"The mung bean has been in the food system for 4,400 years, but it turns out that certain kinds of mung, when processed in particular ways, do things that the world has never seen before," Tetrick said at Future Food-Tech San Francisco in March. "They can make creamy ice cream that uses less land and less water, they make butter that tastes just like dairy butter but with half the fat. If you throw it in a pan, they can even scramble like an egg."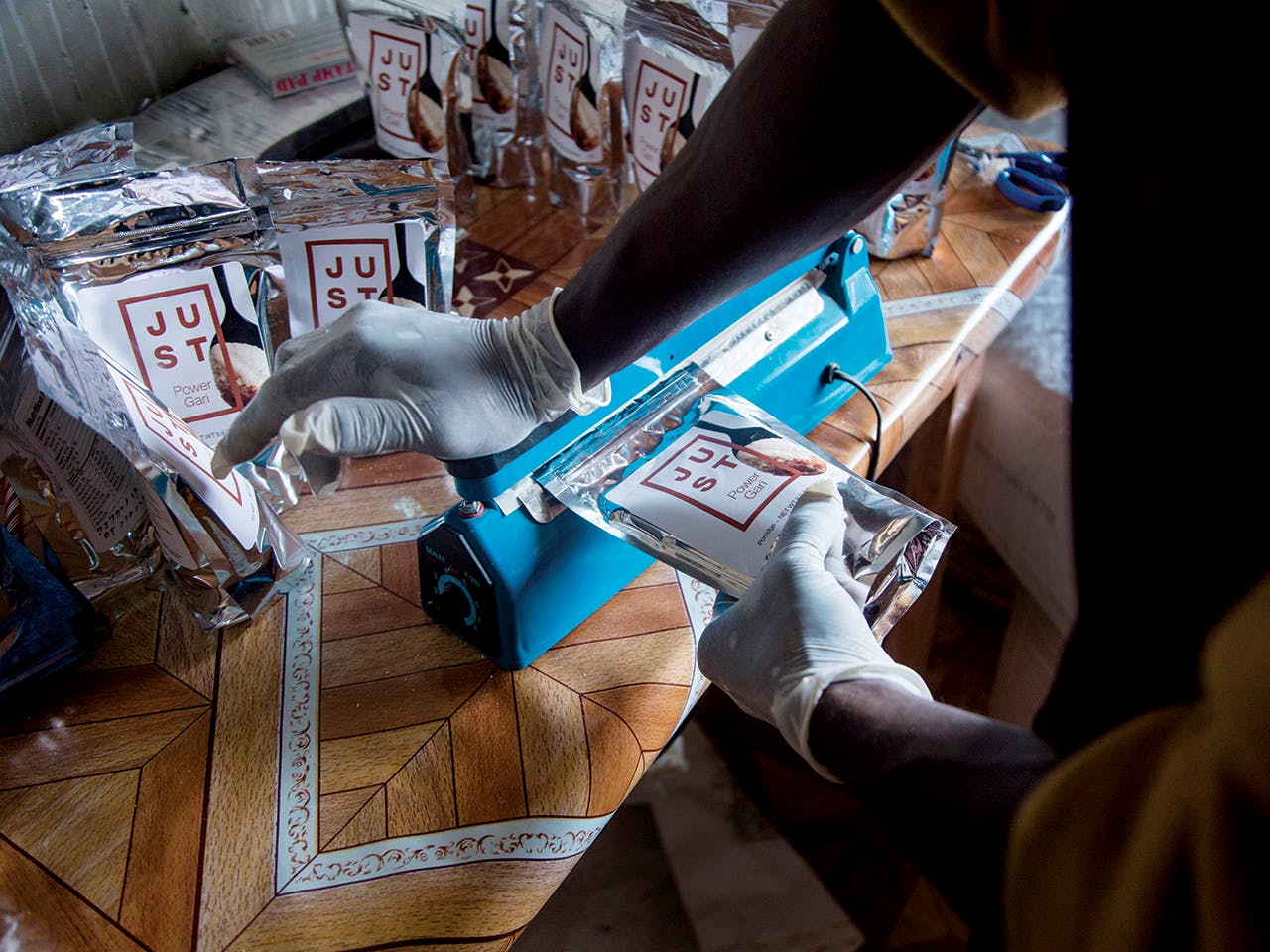 Even more recently, Just has begun exploring the "clean meat" market, with the goal of producing actual meat in a lab without the need to slaughter an animal— or all the environmentally destructive impact of factory livestock farming. 
In spite of all this talk about food, at its core, Just positions itself as a tech company, and it's been technology that allows the team to figure out how to use these plant ingredients in innovative ways. 
The company's massive plant library contains species from more than 50 countries around the world (though the exact number of species sampled is confidential). The plants have been collected and analyzed down to their molecular level, and categorized based on components such as nutritional value and even elements like "gumminess" and "chewiness." 
"Our plant library has always been a fundamental part of our R&D program," said Udi Lazimy, Just's global plant sourcer. "The mission has always been to reshape the food system to make it more sustainable, equitable, and healthy for all. With this foundational mission, we turned to the world's diverse plant kingdom for solutions to achieve that goal, since the predominant system that depends on animal agriculture and just a small handful of commodity crops is not sustainable." 
Figuring out how to use Canadian yellow pea as an egg replacement isn't something many companies have tried to do, so it required some ingenuity to even figure out what kind of data to break the plant ingredients down into. 
"This was uncharted territory," said automation lead Chingyao Yang. "With talent from cross-disciplinary fields, we built a platform from scratch to screen through different plant species and further characterized materials of interest with qualitative and quantitative information. Learning from different industries, we pushed the edge of technology and innovated this platform to fractionate plant components and utilize them in different food categories." 
"This technology speeds up the rate of discovery for new plant candidates for better, more sustainable food production." 
"We planned for a high-throughput screening platform from the very beginning," said Meng Xu, Just's director of bioinformatics. "A fundamental reason is that high-throughput screening is an efficient approach to search the vast space of plant materials to identify proteins with desired food functionalities. The platform was developed from three major parts in parallel. We built out robot-based automation systems to prepare samples, perform experiments, and generate massive data. We built data systems to capture, store, and access experimental data from automation. We developed a set of software tools and statistical/machine learning algorithms to evaluate and identify materials of interest. Each part was designed as a functional stand-alone component and finally integrated and work as a whole. 'Blackbird' was the codename for the high-throughput screening project and later became the name of the entire platform." In September 2017, Just was awarded a patent for Blackbird. 
"This technology speeds up the rate of discovery for new plant candidates for better, more sustainable food production," said Xu. "We first started analyzing plant protein content by hand. Now, we're using our novel automated discovery platform—using robotics and machine learning—to explore their potential much faster." Fast enough that others are interested in Just's tech for their own R&D. 
"The technology that Just has developed for the high-throughput screening of plant materials enables discovery of a broad set of materials for application in the food industry," said Rakesh Jain, the company's chief business development officer. "Just will use some of these discoveries to produce its own products, like Just Scramble, but we have already found many more highly functional ingredients that others in the industry will find useful for their own sustainable products/own product development. We are actively working with many companies who want to use our discoveries to enable new product lines." 
There's a lot more potential with this research than creating new product lines—something Jim Borel, former second-in-command of DuPont, saw when he joined Just's board of directors last year. Industries don't change until the major players adopt a new set of standards and behaviors, and it's a lot easier to pull this off through teaching and partnerships than it is to succeed in such a major way that competition simply copies what you're doing. 
Tetrick admits that the company changes direction a lot, so there are many ways the company's plans and research could evolve. But with a massive and ever-growing library of ingredients, their algorithm is going to cook up a lot of options.