Combining the tech buzzword du jour "blockchain" with the refugee crisis might seem like an odd fit. But within the vast bureaucracy of the United Nations' World Food Programme (WFP), a small team operates with the nimbleness of a startup to distribute aid-for-food funds to more than 100,000 Syrian refugees using blockchain technology.
Called Building Blocks, the team of UN staff, software developers, and experienced aid workers focuses on delivering food aid to refugees as rapidly as possible. The ultimate goal of the project is to reach hundreds of thousands of Syrian refugees stranded in Jordan and elsewhere. According to development officials, Building Blocks is the largest deployment to date of blockchain technology for humanitarian purposes.
If they're successful, the project could spread across the UN's multiple agencies and various international partners tasked with the feeding and housing millions of people fleeing political strife and catastrophes worldwide.
Although the numbers are hard to estimate, the UN calculates 5.6 million Syrians have fled their homes since 2011. As the civil war in Syria grinds on, roughly 3.6 million of these refugees live in Turkey, 1 million in Lebanon, and 671,000 live in Jordan, with millions more people displaced inside of Syria.
Given the scale and size of the problem, the task of feeding and housing Syrian refugees is an enormous undertaking, even considering that the UN feeds about 91 million people around the world annually. Rather than ship food and supplies overland from warehouse to warehouse and run a gauntlet of obstacles, the emphasis of the WFP has shifted in recent years to providing cash transfers to recipients of food aid.
There are two big benefits. Cash transfers support regional economies affected by strife, and the recipients of food aid regain some measure of control over their lives. Rather than stand in line for basic necessities, the recipients of aid can shop at local markets, using an electronic payment system that functions much like a debit card. 
On the downside, the global financial system and regional banks are not designed to accommodate refugees, which leaves a significant percentage of them outside the banking system. Banks typically require multiple forms of identification, such as a passport and a driver's license, to open an account. "Refugees are unable to open bank accounts in Jordan, so it made sense for us to help provide them with some financial access," says Gustav Stromfelt, a program manager for Building Blocks.
In development circles, delivering food aid to refugees safely and securely to refugees is known as a "wicked problem"—one that's difficult to meet because of incomplete information, changing requirements, or other issues. The WFP's approach was to launch the Innovation Acceleration Program in 2017. The organization takes the best ideas culled from the public and private sector and applies them to hard-to-solve issues. The organization offers up to $100,000 in funding along with mentoring and support to social entrepreneurs. "The accelerator has done a great job of turning taking fledgling ideas and turning them into innovations in the field," Stromfelt says.
The Stanford University publication "Blockchain for Social Impact" describes the technology in the following manner. At its core, blockchain is a digital ledger that records transactions. Blocks of data are linked to each other to form a chain, stored on a network of decentralized computers. Among the advantages, stakeholders with access to the network can view the history of transactions. The links make it easy to see if anyone has changed the any part of the chain, which in turn helps guard the system against illegal transactions.
In addition to blockchain, the accelerator program has funded eight projects, including a low-cost hydroponic growing system for desert use, fintech apps for farmers in Zambia, and experiments involving artificial intelligence, drones, and satellite imagery for disaster recovery efforts.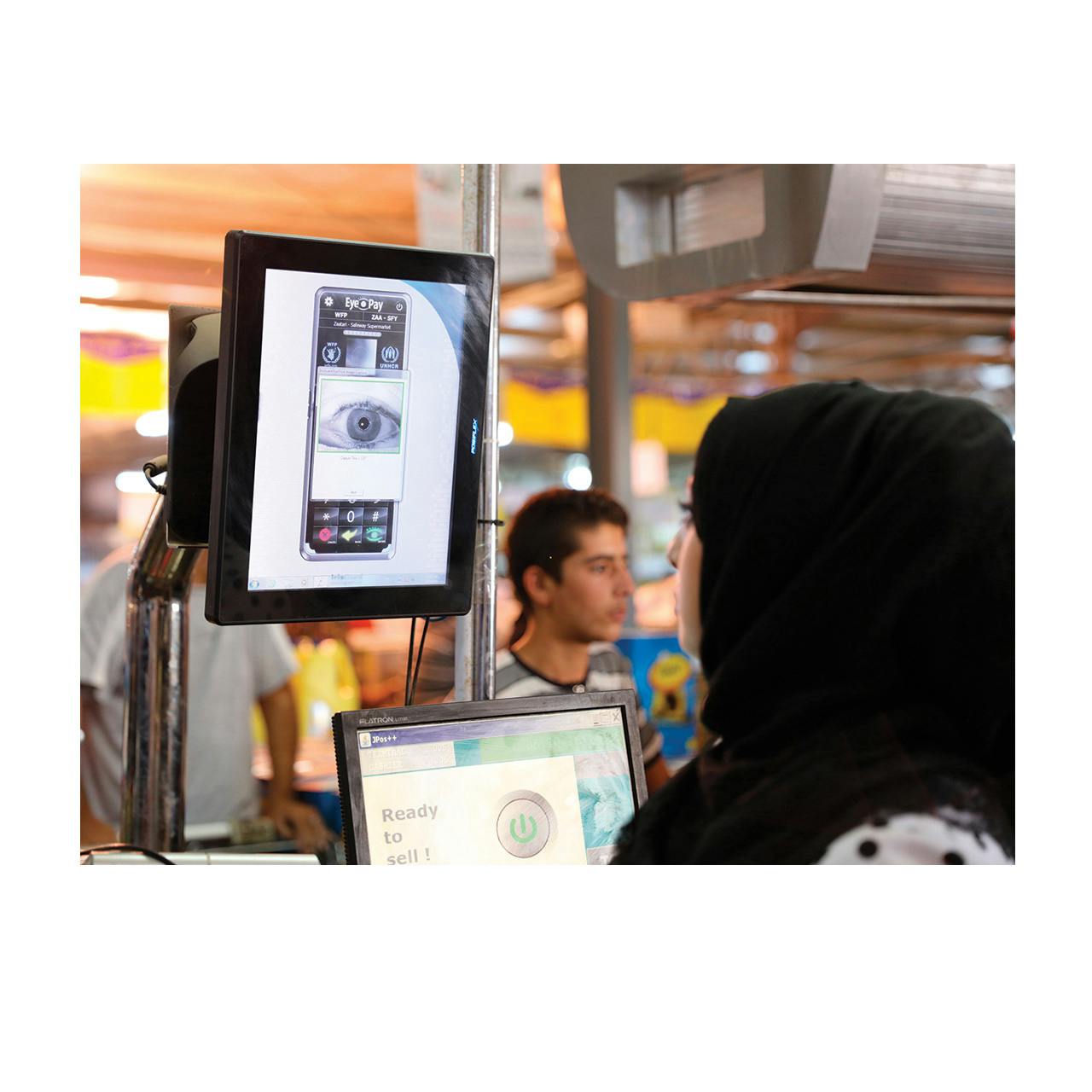 Iris scanning for blockchain-enabled ID verification at Zaatari refugee camp in Jordan.
Intrigued by blockchain's potential, the WFP put out the call for possible solutions for tracking large sums of money. Datarella, a Munich-based blockchain and database integration firm, realized that their experience with corporate clients like Siemens and Microsoft could be applied to the aid sector. In 2017, they pitched an idea, and the accelerator program accepted them. A prototype of Building Blocks made its debut in the Sindh province in Pakistan, to test the capabilities of blockchain to record and authenticate transactions.
Based on the success of the trial run, project managers brought the pilot program to Jordan to determine whether Building Blocks was reliable on a larger scale. It now serves 100,600 refugees there.
The program integrates blockchain with biometric technology to create digital profiles unique to each family. The residents don't have to rely on having cash on hand or a physical debit card to go shopping. Instead, to buy food and supplies, camp residents stare into an iris scanner at the register to verify their identity. In the blink of an eye, the scanner cross-checks their identity against a UN database, queries their account, and allows them to purchase what they need. At the end of the transaction, they receive a text message via their cellphone informing them of their balance, plus a receipt of what they've just spent.
Instead of authorizing payments through a regional bank to local vendors, as before, a record of the transaction administered by the WFP updates balances and settles accounts with minimal overhead. Building Blocks has streamlined the accounting process, reducing administrative fees by 98 percent. The "savings are roughly $40,000 dollars per month," Stromfelt says. 
Combined with bioinformatics, the technology has the potential to help refugees by providing some peace of mind. First, by ensuring the benefits they receive are fast and secure. And second, the system can open the door to rebuilding their lives either at home or abroad, 
Data tech expert and author Mark van Rijmenam thinks blockchain used in tandem with UN databases could prove to be quite useful for refugees. "Because it doesn't require a centralized authority to provide an identity," he says, "blockchain opens new possibilities for them not to rely on a malfunctioning government that can't or won't offer them documentation." 
Blockchain advocates envision a day when refugees can reestablish their identities through bioinformatics, a digital ID, and financial documents linked to a blockchain-based system, which they own. At present, when refugees enter a refugee camp, they are issued IDs by camp authorities, but the documents don't have much application elsewhere. "The holy grail is for refugees to own and control their identity, which is not the case for anyone at this point, " van Rijmenam says.
Once refugees move overseas or decide to return home, the bureaucratic process starts over again, with border and immigration officials. Further complicating matters, refugees face a series of obstacles to find work and housing. To get a job in most countries, newcomers need to establish residency, be authorized to work, and provide a mailing address to employers. All of that takes time, money, and effort. And without government-issued IDs, the prospects of finding housing or securing gainful employment diminish.
However, various digital identity programs designed to ease refugees' transition into civilian life are underway. For example, the Finnish Immigration Service has partnered with a Helsinki-based blockchain company called MONI. In 2015, the Nordic nation began issuing refugees a prepaid Mastercard that's linked to a digital identity number stored on a blockchain ledger. Even without the documents needed to open a bank account, MONI cardholders can receive benefits from the government and use the cards at Mastercard terminals to conduct basic financial transactions. MONI handles the secret cryptographic handshake required to process billing and payments. In short MONI, acts as a surrogate bank for Finland's newcomers.
Meanwhile, Accenture, Microsoft, and other companies have joined forces with the UN to form the public-private consortium ID2020. The aim is to provide digital identities to 1.1 billion people who lack proof of their existence, in a manner that answers the basic questions of who they are and where do they come from. Much like Building Blocks, the initiative will combine biometric data and the blockchain ledger to create an encrypted and portable ID for refugees. If the effort is successful, refugees equipped with smartphones will have access to their personal data at all times.
As the World Bank points out, smartphones with built-in biometric sensors are becoming less expensive with each passing year. Between 2010 and 2017, the overall price of smartphones have declined 27 percent. By 2020, analysts predict 4.8 billion biometrically enabled devices will be in circulation. As their numbers increase, mobile ID schemes are expected to gain traction.
Meanwhile, Building Blocks is looking to increase its presence within the aid sector. It remains to be seen if other agencies will adopt Building Blocks, or whether the donor nations that keep the WFP afloat will accept the blockchain ledger as a faster and better way of doing business. Stromfelt welcomes the challenges that lie ahead. "What I've noticed," he says, "is that there's a lot of skill and a lot of momentum in this sector, more than I had expected."