RICHARD LAPPIN IS DEPUTY HEAD OF elections at the Organization for Security and Co-operation in Europe's office for democratic institutions and human rights. One of the biggest misconceptions he regularly has to puncture is people thinking digital democracy is all about electronic voting. "There are many different ways of using technology," he says, "from scanners of ballot papers to touch screens and internet voting." 
The "vast majority" of countries use some form of technology to help manage their elections, whether handling voter lists, tabulating and counting votes, or sharing information on the results with administrative bodies. "There are a few outliers," admits Lappin, "but now the use of technology in elections is pretty much standard." 
How far along the path to digital democracy the disparate parts of the election process are depends on the country, the state, and in some cases, the county, but there are several distinct ways in which technology can be harnessed to help people cast their votes in a more informed, secure, safe and efficient manner. Whether at the start of the democratic process, helping people decide which way they want to sway and whom to throw their support behind, or at the end, helping cast ballots and transmit them securely to be counted, technology has become an intrinsic part of our elections. 
In a survey from earlier this year, 7 in 10 Americans told the Pew Research Center that a "high turnout in presidential elections" was "very important." But barely over half of citizens old enough to vote did so in the 2016 United States presidential election, and only 157.6 million of the 245.5 million eligible to vote are even registered. 
That leaves the United States in an unenviable position: out of the 32 Organisation for Economic Co-operation and Development nations for which data was available, voter turnout in the United States languishes in 26th place. Compare that to Belgium, where 87 percent of the voting age population turned out to cast a ballot in the 2014 national election, or even Mexico, where two-thirds did in 2012. The United States comes in behind Slovakia, Ireland, and Estonia, and just inches ahead of Luxembourg and Slovenia. 
CITIZENS ARE USED TO PUSH NOTIFICATIONS nudging us into actions, whether it's seeing the latest tweet the president has posted or checking our bank balance, so using them to cajole people into turning up at voting stations may well be the next logical step. Groups like Rock the Vote and Vote.org are doing just that, impressing on the general public the importance of having a say in the future of democracy. Vote.org is a Y Combinator startup alum developing technological tools to make it easier to register to vote. They then inform voters when and where the election is. 
But they're focused on more than just high-tech solutions. Vote.org also uses low-tech methods to get the word (and the vote) out. They've installed billboards across the U.S. letting people know when and where to vote. Those who see the billboards on their daily drives have higher rates of voting. 
Getting people registered to vote is one thing, but getting them to the polling station is another. And it's even more challenging to enable voters to make informed choices about every vote, no matter how small the race.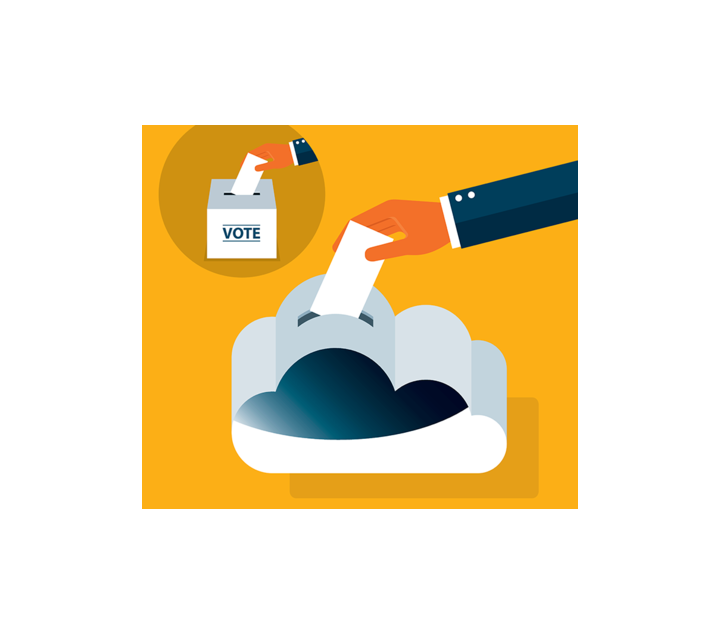 As Alex Niemczewski was preparing to decide who to vote for in the U.S. midterm elections at the end of 2014, she was struggling. She knew who she'd vote for at the top of the ticket, but she also knew that the ballot was going to be really long, with a formidable list of local races, each of which had a slew of candidates. She was reminded of a conversation she had had with Aviva Rosman, who had stood for office in an election that Niemczewski had no idea was taking place. (Rosman ended up winning by just 16 votes.) 
Niemczewski decided to work on taking more of the guesswork out of the process. "One of our goals is for people to complete their entire ballot without guessing," she explains. "We know voting is powerful, but people aren't using that power to its full potential." 
Niemczewski and Rosman set up BallotReady, an online voter guide to local elections that pulls data directly from candidate manifestos and websites and presents it in an unbiased, easy-to-understand way. 
Gathering that information was tough. "There's no single database of the whole country's ballot lists," says Niemczewski. BallotReady has to send faxes to electoral departments and receive district maps in the mail. They then scan social media, news articles, and candidate questionnaires to give potential voters a fair representation for all candidates. 
In the 2016 US general election, 1.1 million people used the site to decipher who to vote for. A study the company conducted in 2017 found that voters who use BallotReady, when controlling for demographics and voting history, are 30 percent more likely to turn out on election day. In 2015, BallotReady covered the Chicago mayoral runoff and Kentucky's state elections. A year later, they covered races in 12 states. In 2018, they've covered all 50 states. 
The physical act of casting a vote has also changed dramatically in recent years. Despite its early promise, electronic voting has gotten a bad rap, particularly if it lacks a paper trail (see page 94 in this issue). Though they've been lambasted as showing "real harms to … constitutional interests" by Georgia district judge Amy Totenberg, electronic voting machines will be used in November's midterm elections. 
It's these kinds of difficulties that Nimit Sawhney and the dozen employees at Voatz, a Boston-based electronic voting startup, have to contend with. "It's set back electronic voting, definitely," he says. "A lot of people don't understand the difference and the nuance. We have to focus on building new products and educating people as to why this is better than something else—and that's its own challenge." 
The app uses biometric identification such as fingerprints and face recognition—built in to many high-end smartphones nowadays—to protect the sanctity of the vote, while using blockchain to lower the risk of tampering. 
The fundamental reason Voatz came about was to bump up those languid voter turnout numbers. "If you look at the younger population, they do everything on their phones," says Sawhney. "Voting is probably the only thing they don't do on their phones yet." He points to predictions that unless voting becomes more accessible, less than a third of the population will vote in elections within two election cycles. "Is that really a democracy?" 
Of course, there's one issue with using high-end smartphones to cast ballots: not everyone has a high-end smartphone. But Sawhney and Voatz are exploring device grants, or using an iPad version of the app and installing them in libraries, an analogue of the e-voting machines we see nowadays. 
Voatz started trialing its software in school and college elections, then began working with major political parties (the Massachusetts branches of both parties use Voatz). Notably, while Georgia struggles with what a state judge admits is a flawed system in the November midterms, 600 miles north, the state of West Virginia will be using Voatz in its own midterm election for troops serving abroad. 
That doesn't mean mobile electronic voting is necessarily being welcomed with open arms. When it was announced that West Virginia would be using Voatz, there was considerable pushback from social media and watchdog groups about just how secure and stable the Voatz system will be come election time. Sawhney tried to head off these concerns by downplaying the size of the test, given that Voatz voting will mostly be limited to troops serving abroad. "We're not claiming that this is ready for millions of people to use," he told Boston Business Journal. 
Provided the security stands up and the vote goes smoothly, use of the app and others like it could spread more widely. But while Sawhney thinks mobile voting could be mainstream within five or seven years, he's in no rush. "It'll take a while," he says. "We don't think this should happen overnight. It should be a step-by-step, gradual process."